About Venue
Tokyo
Tokyo has been Japan's cultural center since the Edo period, and is the crossroad where over 400 years of history and tradition meet with cutting-edge innovation. The city offers a uniquely eclectic mix of traditional and modern attractions that everybody can enjoy!

Waseda University
Waseda University is one of Japan's top private universities, and is located in the middle of Tokyo. The university was founded in 1882 by Marquis Shigenobu Okuma, the 8th and 17th Prime Minister of Japan, with the aim of upholding the independence of learning, promoting the practical utilization of knowledge, and creating good citizenship.

Yakatabune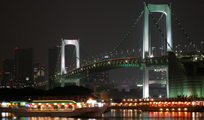 Yakatabune is a traditional Japanese-roofed leisure boat that is among the best-kept entertainment secrets of the past 150 years and that has been in use since the times of Shoguns and Samurais. The congress excursion includes a Yakatabune cruise.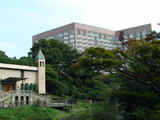 Chinzan-so (banquet venue)
Chinzan-so (banquet venue) is secluded amidst a historic Japanese garden of 7 hectares. It is just minutes away from the center of Tokyo. Here, you can enjoy a delicious dinner in an elegant atmosphere.

Basic information about Tokyo
Climate
The climate of Tokyo in early September is still hot and humid. The temperatures range from 20°C (68°F) to 30°C (86°F). Late summer clothes are recommended, although there may be exceptions: it can also be cooler or hotter than expected. In this season, we sometimes have much rain brought by typhoons.

Currency
Local currency is Japanese yen (JPY). Congress fees should be paid in JPY. The exchange rate as of September 2010 was 100JPY = 1.18USD or 0.88EUR. Foreign currencies can be exchanged to JPY at major international airports, rail stations, and banks or post offices in Tokyo. Although the use of credit cards (VISA, MasterCard, JCB, and possibly American Express and Diners) is widespread in Tokyo, it is not always convenient outside Tokyo. It is a good idea to get some JPY when you arrive.

Electricity
100 volts / 50 Hz. The plug is A type.

Time difference
Japan Standard Time is 9 hours ahead of GMT. No Daylight Saving Time is practiced in Japan.

Tax
5% consumption tax is normally included in the price of goods and services.

Tipping
There is no custom of tipping in Japan.

Water
Tap water is safe to drink in Japan. Bottled water is also available at stores.

Tokyo tourism
The official tourism information for Tokyo is avialable via